Keeping your garden weed-free and insect-free is very important to make it beautiful. A well-grown garden cannot be established without controlling weeds. It is estimated that if weeds are not managed properly, 43% of crop yield can be lost. It is therefore vital to spray insecticides and weedicides timely to control weeds and other garden insects. However, managing several types of weeds manually without harming other plants is not an easy task. Hence, only an efficient and reliable garden sprayer would do the job effectively.
Things to Consider Selecting a Garden Sprayer
There are many types of sprayers, each with its own unique functionality and usability, and we can choose the right one for our garden based on our needs. Sprayers are multipurpose tools, they can be used for weedicide, insecticide, and nutrient spraying. Therefore, in addition to your garden needs, the following features should be taken into consideration when choosing a garden sprayer.
Type of Sprayer
Before purchasing a sprayer, it is important to determine what type of sprayer will be best for your plants and garden. It is important to know that sprayers come with a wide range of functions and user capabilities, depending on the user's requirements and the garden canopy. Therefore, it is important to understand the requirements of your garden before choosing a garden prayer and then select from multiple types with different features and sizes available in the market.
Besides being available in many different models, garden sprayers also come with a lot of great features such as backpacks, wheels, and electric or battery-powered sprayers, which can be very helpful for maintaining a beautiful lawn. These are some of the most common types of sprayers:
Hose-End Sprayers – A hose-end sprayer siphons out products from bottles and mixes them with water to spray in the garden. It is the easiest and least expensive type of sprayer which can be used to apply chemicals to a large garden area.
Backpack Sprayers – Sprayers that come with backpacks are worn on the back and have wands that wrap around the back. In comparison to hand-held sprayers, the over-the-shoulder configuration makes it easier to handle liquid chemicals.

---
Read More
5 Best Backpack Sprayer 2022: Review and Buying Guide
---
Wheeled Models – The wheeled type of lawn and garden sprayer is one of the most popular types. Besides being easy to use, sprayers with wheels are also convenient for gardening and lawn care since you won't have to refill them repeatedly. In one spray, a six-gallon container can already cover a large lawn.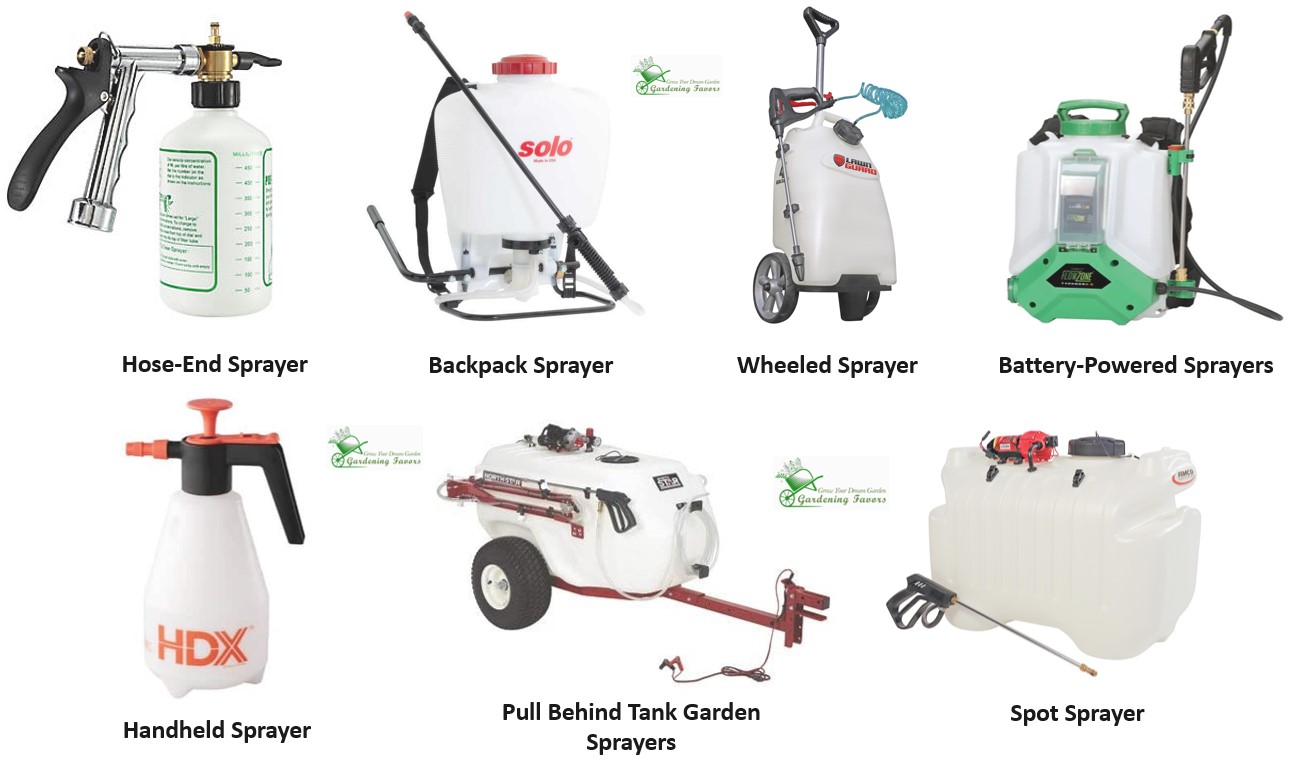 Electric or Battery-Powered Sprayers – A battery-powered sprayer eliminates gas refills, cord dragging, and hand pumping, giving homeowners the convenience and ease of use they desire. Lithium-ion batteries are commonly used to power electric sprayers. With electric sprayers, waste is reduced, pollution is minimized, and worker productivity can be boosted.

---
Read More
5 Best Electric Sprayer 2022: Review and Buyer Guide
---
Handheld Sprayer – Handheld sprayers allow you to spray pesticides and disease-controlling chemicals up close and personal. These handheld tank sprayers use pressure to disperse water and other liquids. These are light-duty garden sprayers designed for both homeowners and professionals.
Pull Behind Tank Garden Sprayers – A pull-behind lawn sprayer can be towed with a garden tractor for even more mobility. With a handy spot spray wand, you can reach those hard-to-reach spots without having to go back and forth. Using a pull-behind lawn sprayer, any type of vegetation can be treated. Among the most common are lawns, fruit trees, vegetable gardens, and flowerbeds.

Spot Sprayer – Spot Sprayers are designed to spray areas that are hard to reach, such as fence lines, around buildings, trees, and other isolated places. They can be attached to vehicles and used for multi-location applications of water, chemicals, and fertilizers. They are durable, dependable, and compatible.

Best Picks for You
Capacity
It is important to consider the tank capacity when choosing a sprayer. Because the capacity of the tank influences the working efficiency of a worker and the total area covered by fill. In most cases, garden sprayers have tanks with capacities ranging from eight ounces to five gallons. However, the size of the garden, the type of vegetation, and the type of chemicals you want to spray influence the choice of a sprayer. Unlike high-capacity tanks, low-capacity ones need to be filled more frequently in order to complete one spraying cycle. Therefore, it will be more efficient to use a sprayer with an adequate capacity.
Portability
Your garden sprayer needs to be fairly portable since you will be moving it from one spot to another. Hence, you must select a sprayer that suits your garden and is portable. A mid-sized sprayer with an average tank size will be more than enough for a small or medium garden. However, if you have a large garden, you might benefit from a pull-back or wheel sprayer. Further, a backpack model is more appropriate for rough terrain. In addition, you should consider the size of the sprayer, especially if it is a backpacker. It is difficult to work with bulky sprayers because they are difficult to handle and heavy.
Durability
An important factor to consider when choosing a sprayer is its performance and strength. A sprayer's strength is extremely important because many chemicals are of a cohesive nature, which damages the parts and causes leaks. The leakage of chemicals while spraying can be very hazardous to the worker and cause serious problems. It is therefore imperative that gardeners select a durable sprayer as their first choice.
In addition to leaks, durability is also important for the long life of a sprayer. The cost of buying a sprayer over and over again is not budget-friendly. As a result, every gardener desires that a sprayer should last a long time and should not lose its efficiency.
Stainless steel, galvanized steel, and polythene are common materials for sprayers. There is no doubt that steel models are the most durable, but they are also the most expensive. However, plastic sprayers are not likely to last for decades, but they are suitable for small gardens. Thus, you need to consider the garden you have before making a decision.
Cleaning
It is very important that you clean your sprayer after every use to avoid damaging the pump or blocking the nozzles. Therefore, you should choose a sprayer that can be easily cleaned and does not retain chemical residue.
It is almost certain that your sprayer will get clogged from time to time. In order to unclog it, you will need to disassemble it and thoroughly clean it. In such a case, an easy-to-assemble sprayer would make sense. It would also be preferable if the sprayer had a filter that would prevent debris from getting into the nozzle and clogging it.
---
Read More
The Best Way To Clean A Garden Sprayer: Guide
---
Garden Sprayer with an Adjustable Nozzle
Different substances can be sprayed with sprayers, including fungicides, pesticides, and fertilizers. For this reason, it is vital to ensure that your device's nozzle can be easily adjusted in order to effectively use it for different purposes. In order to spray different chemicals with the same nozzle, an adjustable nozzle is necessary, since not all chemicals can be sprayed with just one. It not only reduces the cost of purchasing multiple sprayers but also aids in easier sprayer cleaning. By using a suitable spray nozzle:
Spray size can be adjusted.
The chemical flow rate can be controlled.
The spraying angle can be adjusted.
Chapin 20003 Made in USA 3-Gallon Lawn and Garden Pump Pressured Sprayer, for Spraying Plants, Garden Watering, Lawns, Weeds and Pests, Translucent White
3-GALLON DURABLE POLY TANK: 3-gallon translucent poly tank lets you see the tank capacity while filling and working, tank is durable and compatible with standard lawn and garden chemicals and the funnel-top reduces splashes and waste while you're filling it with your preferred lawn care and pest products
MADE IN THE USA WITH GLOBAL MATERIALS: designed and produced in the USA with US-based customer service and technical support, located at Chapin's home base in Batavia, NY; backed by Chapin's 1-year limited warranty
SURESPRAY FILTER: anti-clog filter helps prevent clogging from dirt and debris in the tank, keeps you working with less downtime from disassembling sprayer parts to unclog filters
COMPONENTS: reach further with the 12-inch poly extension wand and 34-inch PVC hose; dial in to spray a stream or shower with the adjustable poly cone nozzle
Sale
VIVOSUN 2-Gallon Pump Pressure Sprayer, Pressurized Lawn & Garden Water Spray Bottle with Adjustable Shoulder Strap, Pressure Relief Valve, for Spraying Plants, Garden Watering and Household Cleaning
Adjustable Nozzle: This sprayer comes with water column spray and shower spray settings, you can adjust the tightness of the nozzle to achieve different patterns; 22.28-in long wand and 50-in hose increase spraying radius
Easy Operation and Safety: The ergonomic handle with locking trigger, you can drip or spray continuously by locking the handle or not; it has a safety valve setting that you can pull to release any built-up pressure
Easy to Fill and Check: The large bowl and funnel design on the top makes it easy to fill; This pressure sprayer uses a translucent bottle with a calibrated scale, so you can easily check the liquid level
Durable and Portable: The sprayer's thickened bottom improves its durability and stability; Each sprayer comes with an adjustable heavy-duty shoulder strap that can be carried like a backpack or shortened to carry
Weight
Sprayers vary in weight according to their size and build material. It's important to remember that you'll be filling this container with fluid up to five gallons. Due to this, weight is an important consideration when you have a large garden. If you choose a bulky sprayer, it will weigh more once it is filled with chemicals. In case of a large garden, maintaining a continuous spray will be difficult due to this weight and it will be difficult for workers to work for an extended period of time. Thus, this choice will depend on the size and needs of your garden.
Pump
Every sprayer has a pump to build pressure and make a mist or stream of chemicals present in the sprayer tank to spray in the garden. However, there are two types of pumps available in the market, which vary with the type of sprayer. Pumps play an important role in the efficiency of sprayers because they have very specific functions. The types are:
Piston Pumps
Typically, the pump has a cylindrical housing with a piston that moves up and down to create pressure. In some cases, the pressure can reach up to 90 pounds per square inch. The high pressure gives rise to smaller droplets that are able to travel farther. The piston pump can only handle low-abrasive and low-viscosity liquids such as insecticides and herbicides otherwise damage may occur. Compared to other types of pumps, piston pumps are relatively easy to repair.
Diaphragm Pumps
In diaphragm pumps, the frame is held together by screws that connect the flat diaphragm to the cylinder. In order to create pressure, the diaphragm flexes up and down. Due to the fact that they don't have any contact with the cylinder walls, they are proved to be more durable. Pumps like these are capable of reaching 60 PSI and can be used for spraying abrasive chemicals. However, there is no doubt that diaphragm pumps can be repaired, but it takes longer than piston pumps to do so.
Hence, it is important to control weeds and insects regularly in order to maintain a beautiful garden, and for that, a sprayer is of great importance. In order to make your garden love grow, it's important to consider these features when buying a sprayer.
Sale
Itisll Portable Garden Pump Sprayer Brass Wand Shoulder Strap for Yard Lawn Weeds Plants 1Gal
¡ï Portable & Multi-Purpose Pressure Sprayer: This hand sprayer can be used for cleaning cars, irrigation plants, pet bathing, home cleaning. TIPS: This lawn sprayer is not suitable for corrosive or acidic solutions.
¡ï Adjustable brass rod: The high-quality brass nozzle can adjust the intensity of the water spray from direct injection to fine mist spray. This sprayer is equipped with a comfortable 50-inch hose and extended 19-inch spray stick, which helps to spray longer distances or inaccessible places!
¡ï Ergonomic handle: The ergonomic handle with locking trigger not only reduces fatigue, but also facilitates long-time spray operation. It can also be used to lock the trigger at the handle for continuous spraying with a steady amount of water. An adjustable shoulder strap makes it easy to hang the sprayer on your body for easy movement.
¡ïSafety & Convenience-The yard sprayer is made of high-quality PE material. This allows you to clearly see the liquid remaining capacity scale through the transparent bottle, allowing you to replenish the solution in time. This lawn sprayer is equipped with a safety valve that automatically relieves pressure when the pressure exceeds 2.5-3Bar.